A study reveals that 94% of the marketers surveyed see personalization of the web experience is vital for business success.
When you plan your website, you think about things like design, web copy, and calls-to-action. This isn't wrong, but your competitors are doing the same thing.
If you want to create a true connection with visitors and do something most of your competitors aren't, you should consider marketing personalization. If you're wondering what personalization is, the answer is simple enough.
According to Newco, Personalization is one of the biggest trending topics when it comes to marketing and data trends. Essentially, it refers to using the information you collect about visitors to customize the user experience, whether it be on social media, your website, or in your store.
In this case, we're talking about how you can use personalization to increase conversions from your business website. It doesn't matter what your selling – products, services, ideas – these are strategies that work because they're not cookie-cutter solutions.
Here are six ways your business can use personalization to add jet fuel to its conversions.
1. Segment Your Audience
The people who visit your website can probably be divided into several groups based on a few common characteristics. Your first step should be to segment your audience based on the information you can collect from your tracking and analytics sources.
Demographic, geographic, behavioral, and psychographic commonalities are some of the criteria you can use for segmentation. You can use these factors to personalize your marketing efforts.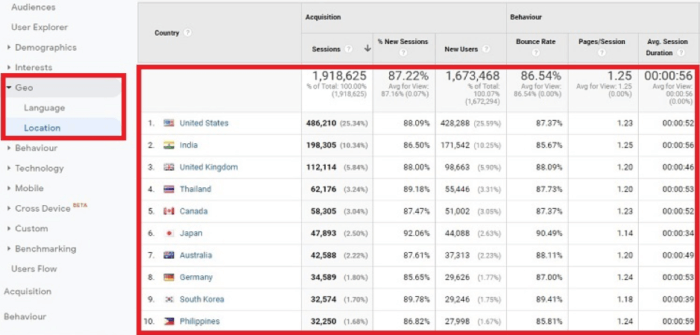 For example, even though your main website is entirely in English, you might collect data showing that a portion of your customers are visiting from a country that is primarily Spanish-speaking. You can use this information to customize the message they will receive in their native language.
Likewise, you may be able to determine the age or gender of your site's visitors. You can use this data to personalize products and other offers that they view when visiting your website. Another example is showing different content to college students vs. those who you perceive as retirees or working professionals.
Make use of audience segmentation tools
Audience segmentation is not a difficult task if you do it right. But, with so many data points you need to look into, some may find it confusing. There are tools on the market that can help you to get started easily:
2. Enhance Your Website's Personalization
Creating a personalized website helps to improve the customer experience by catering to the visitor's wants, needs, and demographics. This might sound intrusive on the surface, but research shows that it's something that consumers realize is happening, and most appreciate.
According to data released by Shopify, 85% of consumers know that websites track their online behavior and understand that these activities enable businesses to present content and offers that match their interests. Also, 75% of consumers prefer that retailers use personal data to improve their shopping experiences.
Some of the ways that you can enhance the personalization of your website include:
Change your site's language to match the visitor's when available.
Change your site's product or service offerings to match the visitor's needs.
Recommend products to customers based on the content in their shopping cart.
Achieving this might sound like a programmer's nightmare, but the good news is that these customizations can be simple to implement. For example, WordPress, which powers 34% of the internet, can be a solution for creating a personalized website with its many themes and plugins that offer these features.
3. Deliver Personalized Content Based on The Referral Source
Have you ever clicked on a website link based on someone's recommendation? Maybe it was a brand mention by a social media influencer or some other business website.
Imagine clicking on the link, getting to the website, and not being able to find anything resembling the recommendations. This is a common occurrence when only a generic version of a site is available.
A better solution would be to offer different versions of your site and its content based on the referral source. In other words, if "Fabio" is the referrer from his social media page, the visitor will see a landing page that is full of the type of products that influencer usually recommends.
Example of a personalized content

From the screenshot above, WebHostingSecretRevealed.net partnered with web host company InMotion when it created its find best hosting provider list. When someone clicks on the InMotion link from the website's list, they are redirected to a special page with an exclusive offer for the visitors, which increases the rate of conversions.
According to Campaign Monitor, this method increased conversions for them in one instance by 31.4%.
Some of the personalized elements that you can offer in addition to products include different pop-ups, banners, and headings.
4. Personalize Based on Device Type
Another way to personalize content is based on the type of device that the customer is using. Technology makes it simple to figure out whether a customer has entered your site using a mobile or desktop device, and you can customize your content accordingly.
This goes beyond making your site mobile-responsive, although this should be a priority. Some of the ways that you can personalize this experience include:
Offer a click-to-call button for mobile visitors, which is something that a majority of mobile searchers want to see.
Only offer the click-to-call feature during regular business hours to ensure a better experience.
Local businesses can integrate with Google Maps to help consumers navigate to a business location.
5. Personalize Based on Time of Visit
It might not seem like the timing of a website visit matters, but this provides several opportunities for website personalization and increased conversions. Sure, you can dim your homepage background when the sun sets but isn't it only setting in your time zone? This is an impressive trick, but you can do more.
Let's assume that someone visits your website close to the time that you're going to host a big event. This is the perfect opportunity to create a sense of urgency for them to join you, and you can even offer a discount as an incentive.
A case study on time-based content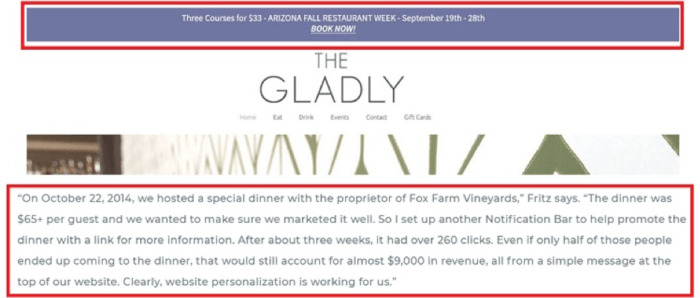 If you own a restaurant, you can feature your lunch or dinner menu during the relevant hours and have a popup that invites visitors to make a reservation. One Phoenix restaurant called The Gladly increased its conversions by 70% with these types of personalization efforts.
In the previous example, we discussed providing a telephone number. If your business is closed when a visitor lands on your site, you can provide them with a contact form instead and encourage a message with the promise that you'll respond promptly.
6. Use Personalized CTAs
A call-to-action (CTA) has one job – to convert your site's visitor into something else – a subscriber, buyer, or qualified lead. Generic CTAs, such as "Free Download," "Click Here," or "Connect With Us Now," are well and good, but personalizing them can do so much more.
iMPACT conducted an A/B test on non-personalized vs. personalized CTAs and found that there was a 78.5% increase in conversions with the personalized CTA. That's quite a leap!
So, what is a personalized CTA? Simple, take a close look at what brought your visitor to your website and personalize the CTA to address that want or need.
As an example, let's assume that your company delivers accounting, financial, and tax return services. If someone enters your website via the search term, "how to avoid an audit," the best CTA you can deliver would be along the lines of "Show Me How to Avoid an Audit" instead of something generic like "Learn More About Our Services."
Personalization is Worth The Effort
Today, personalization on the web is everywhere. When you visit a social media site, you'll see an ad for a book that you were just viewing on Amazon a few minutes or days ago, reminding you that you should buy it and settle in for a good read.
This might sound too good to be true, but research proves that personalization works and it's worth your effort. According to a Forrester report, the single thing that separates Amazon from other companies is mastery of personalization. While you may not be Amazon, you can emulate its winning practices.
While personalization may not be easy, it's certainly worth the effort considering the potential payoff for you and your customers. Since technology and customer preferences are fluid, this is a strategy that will need continuous adjustment to remain as effective as possible.